W E L C O M E     T O     G A L A C T I K F O O T B A L L    W I K I !

A wiki that is devoted on providing information about the Galactik Football Animated Series. This wiki has an aim of building the largest compendium of any Galactik Football related information. Please help out by adding and editing our articles! We currently have 10,660 edits, and
currently editing
over
327
articles and still expanding.
Careful: This wiki contains an abundance of spoilers, read on with caution!
F E A T U R E D     A R T I C L E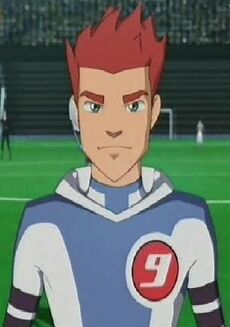 D'Jok is an striker and former captian for the Snow Kids.
During season 3, D'Jok moved away from the Snow Kids, to play for Team Paradisia were would he captain them during Paradisian Tournament. Before evently moving back to the Snow Kids. To face his former team, in the tournament finals, were they would beat them. To win the Galactik Football Cup for a third time.
---
More about D'Jok can be found here.
F E A T U R E D     E P I S O D E
Season 3, Episode 26: The Stars of Akillian are Eternal
Spoiler Alert! This is Season 3, Episode 26 of Galactik Football animated series! For those who haven't seen this episode, read at your own risk.


---

Even though Aarch and Norata have managed to find the Multi-Flux bomb, they won't be able to deactivate it on time. Snow Kids will face the Final without the the Breath. Clamp and the Pirates do what they can to activate the Anti-Multi-Flux. But Harris has still one last trick up his sleeve! But at nearly the end of the match, Ahito brings full flux to the Snow kids, making them win with Sinedd. Team Paradisia jump over each other to get the Cup as sore losers but a yellow wave stops and Nina is knocked down. Mark catches her with the breath and the Snow Kids hold the cup for the 3rd time. Back in the training ground the Juniors, Micro-Ice, Mei, and Hush Sharky have disappeared.

Continue Reading in here.
Community content is available under
CC-BY-SA
unless otherwise noted.